Of march we'll continue to support the platform.. bug fixes, confidence updates, etc. But building new features/hw aren't the focus. ???? https://t.co/0CH9TZdIFu

— Joe Belfiore (@joebelfiore) Oct 8, 2017
During the weekend, Microsoft's Joe Belfiore tweeted acknowledgment of something that has been suspected for many months: Microsoft is no longer building new facilities or new hardware for Windows Mobile. Existing upheld phones will accept bug fixes and confidence updates, but the height is radically now in upkeep mode.
Microsoft's problems in the mobile marketplace are no secret, but for a time the company looked as if it was gripping Windows Mobile as a going regard regardless. Through 2016, Microsoft assembled new builds for the Windows Insider program and combined new facilities to Windows Mobile. At around the time of recover of the Windows 10 Creators Update in Apr this year, that growth mostly belligerent to a halt. Windows Mobile, which already lacked certain facilities that were delivered to Windows on the PC, had its growth forked. PC Windows growth continued on the "Redstone 3″ bend (which will cap in the recover of the Fall Creators Update after this month); Windows Mobile languished on a bend named "feature2."
1
But in annoy of this, until Belfiore's tweets at the weekend, Microsoft never actually pronounced what its plans for Windows Mobile were or how it would be grown going forward.
We have tried VERY HARD to incent app devs. Paid money.. wrote apps 4 them.. but volume of users is too low for many companies to invest. ☹️ https://t.co/ePsySxR3LB

— Joe Belfiore (@joebelfiore) Oct 8, 2017
Answering another doubt on Twitter, Belfiore explained that Microsoft never got over the app inducement hurdle, with a user volume too low to transparent the investment from app developers. In late 2017, with the height all but extinct, that's not tremendously surprising. Over the last year, sales of Windows Mobile inclination collapsed. Two to 3 years ago, annual sales of Windows Phones numbered in the tens of millions; now, they're close to zero.
For fans of the platform—and I'm one—the statement… the admission… is just acknowledgment of what we've prolonged suspected but hoped to avoid. The Windows Phone design, with its confidant Live Tiles, white-on-black theme, and frail design, is still the mobile height that we find many pleasing to use. It's purify and appealing and courteous in a way that the foe just isn't. We wanted it to attain given we favourite the product.
An unlucky start
What creates Microsoft's position quite disappointing, at slightest for this writer, is a continued clarity that it didn't have to be this way. In building Windows Phone and Windows Mobile, Microsoft done a series of fumbles.
The company was too delayed to grasp the significance of capacitive screens and finger-first user interfaces. Instead of seeing the iPhone and immediately starting growth on Windows Phone, the company first tried to swindle some simple finger-friendly interface facilities to the (old) Windows Mobile—an handling complement that remained essentially stylus-oriented—with tiny replicas of rodent interfaces.
When Windows Phone 7 hit the marketplace in 2010, it was transparent that Redmond did, in fact, know how to put together a high-quality, finger-based user interface and build an handling complement around that interface. This initial recover held promise, but it was underline poor—it didn't even have duplicate and pulp at first, in a bizarre mirroring of the iPhone's early underline deficits—and maybe some-more fundamentally, Microsoft was adhering to its normal business indication of charging hardware companies for program licenses.
On one level, this decision was understandable, given it's a indication that had proven hugely successful for Windows and modestly successful for Windows Mobile in the pre-iPhone era. But on another level, it was clearly a mistake: the head-to-head foe in this marketplace wasn't iOS (because Apple doesn't permit iOS to third parties) but Google's Android. And while there were (and are) chartering complexities around the Google Apps and Google Play Store, the core Android handling complement was and is 0 cost for hardware companies. Anyone can chuck some tools into a phone-shaped box and slap Android onto it but profitable Google a penny.
Microsoft then subjected users of this nascent height to a unpleasant transition. Windows Phone 7 was subsequent from the old Windows Mobile software. Windows Phone 8, expelled in late 2012, was not; it was a kin to the desktop Windows handling complement using the Windows NT kernel. Strategically, this was the right thing to do. Microsoft one its Windows growth using a common handling complement heart and, increasingly, developer APIs opposite phones, tablets, laptops, desktop PCs, servers, and even the Xbox and HoloLens.
But the pierce was not but pain. Windows Phone 7 inclination couldn't be upgraded to Windows Phone 8, leaving early adopters with phones that were betimes end-of-lifed and a bad ambience in their mouths. Moreover, the small work of moving to the common heart and APIs was such a outrageous endeavour that it didn't give Microsoft much time to actually work on facilities and capabilities. Windows Phone 7 had a underline necessity relations to Android and iOS, and Windows Phone 8, rather than shutting this underline deficit, was instead focused on updating and replacing the handling system's core.
A company that had some-more immediately famous both the hazard and the event the iPhone represented, as good as the business mutation that Android done inevitable, competence good have avoided these problems. Quicker adoption of loyal hold interfaces, a decision to use a common NT heart height from the outset, a pierce to a store-based income indication rather than handling complement licensing; in hindsight, Microsoft could have done better decisions and done them sooner. Doing so competence good have done Windows Phone a some-more successful platform.
Green shoots of success
In annoy of all of this, there was some means for optimism. The first era of Windows Phone 8 handsets from Nokia were good received. Nokia had a good preference of phones from the flagship Lumia 920 down to the inexpensive and contented Lumia 520. Strong cameras became something of a Lumia trademark, and Windows Phone-specific pattern elements—such as a dedicated camera symbol with half-press autofocus—provided courteous differentiation. The huge Windows Phone 8.1 refurbish combined a operation of useful features, including a best-in-class swipe-based keyboard.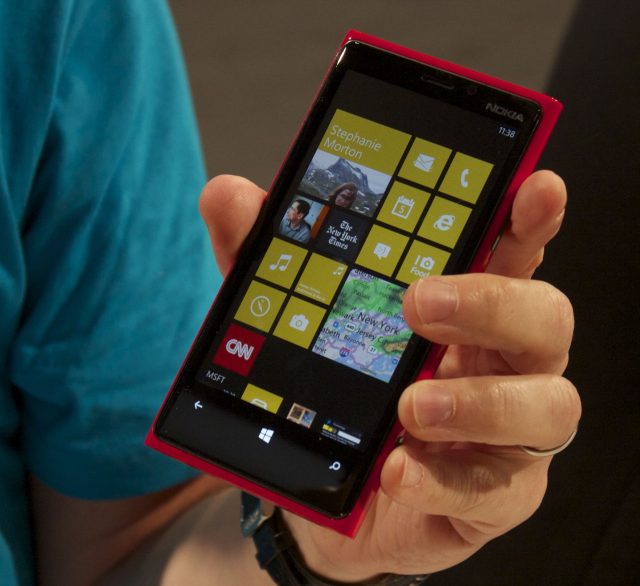 As much as the height had struggled given its 2010 launch, the call of 2012 and 2013 hardware and program releases seemed to put it on a surer footing. At the low end, inclination like the Lumia 520 offering a loyal smartphone knowledge that Android struggled to match. Comparably labelled Android hardware wasn't as good: the program felt slower; the hardware felt reduction delicately constructed. And at the high end, the appealing program and high-end cameras were adequate to bother interest. Per Kantar Worldpanel, Windows Phone hit a 12-percent marketplace share in the UK in Aug 2013; 12.9 percent in France in Nov 2013; 17.1 percent in Italy in Dec 2013; 10.5 percent in Germany even as late as Aug 2015. The domestic story was never as good; Windows Phone hardly burst 5 percent in the US, which for an American company was always awkward.
These numbers still left Windows Phone in third place (or, occasionally, second place in markets with quite diseased iPhone penetration). But the arena was upwards, with a height and product brew that was suitable for a far-reaching operation of audiences. In Sep 2013, Microsoft announced plans to buy Nokia's phone business in a understanding that cost $7.1 billion and wouldn't close until Apr 2014. The future felt promising: keep the same product mix, keep making the height better, and Windows Phone looked good positioned to, at the very least, interest out a plain third place and maybe make a plea for second place.
Listing picture by Peter Bright
auto magazine