If you've been following the Linux universe at all, you know this has been an whole year for open cleaning. Early in 2017, Canonical stopped work on its homegrown Unity desktop, Mir display server, and its incomparable prophesy of "convergence"—a one interface for Ubuntu for phones, tablets, and desktops.
And now almost accurately 6 years after Ubuntu first switched from GNOME 2 to the Unity desktop, that has been dropped, too. The distro is back to GNOME, and Canonical recently expelled Ubuntu 17.10, a major refurbish with some poignant changes coming to the renouned Ubuntu Linux handling system.

In light of the GNOME switch, this recover seems like some-more of a homecoming than an wholly new voyage. But that said, Ubuntu 17.10 concurrently feels very much like the start of a new excursion for Ubuntu. The last few Ubuntu desktop releases have been about as sparkling as OpenSSH releases—you know you need to update, but over that, no one really cares. Sure, there have been a few underline updates with any new numeric increment, maybe some rather some-more benefaction GNOME and GTK components under the hood. But by and large, Ubuntu's Unity 7 desktop has been in upkeep mode for several years.
That duration of recession incited Ubuntu from one of the some-more engaging handling systems around into just another Linux distro hardly estimable of mention.
1
This trend changes with 17.10. There are big changes—an wholly new default desktop in fact—but this recover feels opposite not given the desktop has changed, but given Ubuntu feels like it once again has a clarity of concentration and direction. Even Canonical's letter-based fixing scheme has arrived at a starting over point: "Artful Aardvark" is 17.10′s nickname.
Desktop despondency
Desktop users profitable close courtesy to Ubuntu may not like the renewed clarity of concentration and instruction given much of the chatter, features, and collection coming out of Canonical right now are geared toward the server, container, and what the kids call the Internet of things (IoT) releases. While it's loyal that's where Canonical's bottom line lies (and but giving some courtesy to its profitable business there won't be a Canonical), that ignores the fact that Canonical put extensive bid into transitioning divided from Unity and building a deputy desktop out of GNOME. If Canonical really didn't caring about the desktop, it wouldn't have put in any bid at all. It would have been much easier to just get absolved of the desktop entirely, but that's not what happened.
In a blog post announcing 17.10, Ubuntu founder Mark Shuttleworth encourages users to "pick a desktop."
"We're using GNOME," he writes, "but we're the space where KDE and GNOME and MATE and many others come together to give users genuine and easy choice of desktops. And if you're feeling boned by the miss of Unity in open source, you competence wish to bound onto the channel and join those who are updating Unity7 for the newest X and heart graphics in 18.04."
That last bit hints at the future of desktop Ubuntu; so does a new call for village submit on a new Ubuntu desktop theme. These messages indicate to a new Ubuntu desktop, one that's much some-more community-centric. Canonical got absolved of many of its pattern team, so in one clarity it has no choice but to plantation these things out to the community. But that's not the whole story here. This is pristine surmise on my part, but we consider Canonical's march annulment on "convergence" goes much deeper than just abandoning Unity. Canonical shows signs of also abandoning its infrequently rather firm faith complement as well. Gone are the days when underline requests were discharged as "won't fix" simply given they conflicted with some designer's prophesy of how the desktop should work.
Instead, we trust that Ubuntu satisfied its mistake wasn't just posterior convergence, but that joining wasn't what its users wanted. we trust that the new Canonical, the new Ubuntu, is going to listen some-more closely to its community. we also consider that the desktop recover will eventually be spun off as a community-driven product only loosely dependent with Canonical. Shuttleworth has already pronounced Canonical is prepping for an IPO, hence the concentration on money-making uses of Ubuntu (embedded, server, etc.). If that happens, the desktop will very likely slip to the side. There's copiousness of before art here—think Fedora and Red Hat, OpenSUSE and SUSE—and that's not indispensably at bad thing. In fact, it can be good. Keeping things apart allows the desktop to rise and grow mostly eccentric of Canonical's bottom line.
So 17.10 is a major recover for Ubuntu not just given it's a mint desktop knowledge for users, but also given it's likely a preview of what's coming in the next Long Term Support recover (Ubuntu 18.04, coming Apr 2018).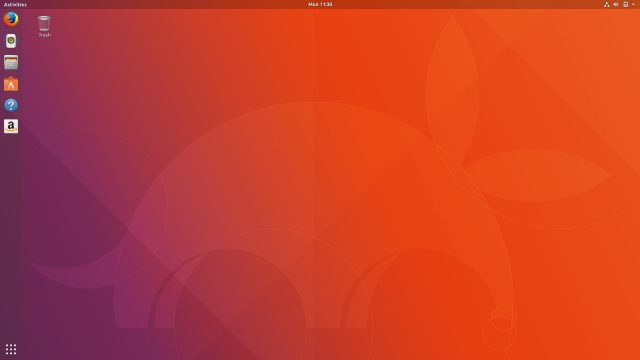 Ubuntu 17.10 GNOME
The Unity desktop is gone, rather it's "available in the archives," which is to contend it's left for all but the doctrinaire fans looking for an problematic means to get behind. Instead Ubuntu 17.10 boots into GNOME Shell by default.
The first time you record in to 17.10, you'll notice that it doesn't demeanour all that opposite from the last release. Ubuntu's developers have put substantial bid into making GNOME cosmetically matching to Unity. Unfortunately, in some critical ways, the similarities are only skin deep. Much of Unity's interest was in the tiny things that severely softened its usability relations GNOME, for instance the keyboard-driven HUD, the global menu, the good presentation system, and several other innovations benefaction in Unity are also "available in the archives," which is to say, they're gone.
How much this matters to your knowledge with Ubuntu 17.10 depends on how much you used any of these things and how good GNOME plugins can impersonate them.
Let's start with the bad news: your transition to GNOME will be unpleasant if you were a complicated user of the HUD facilities in Unity. There is no GNOME plugin to collect up the tardy (there are some excellent efforts underway, but in my contrast nothing of them was prepared for primary time). Worse, this is the kind of underline ask that will have you hounded right off the GNOME developer mailing list, so don't even bother. GNOME will never have a HUD; remove your flesh memory and pierce on, or hang with Ubuntu 17.04 until it reaches finish of life in 2022.
If the HUD wasn't your go-to apparatus in Unity, then the transition to GNOME will be reduction painful. In fact, many of what Unity could do can be copied with GNOME plugins. Want Ubuntu-style notifications and indicators? There's an prolongation for that. Want a Global Menu? There's an prolongation for that as well, but alas, it doesn't really work. Want a working Global Menu? Ubuntu 17.04 is for you.
Still, Ubuntu 17.10 is at slightest visually matching to its predecessors, which helps well-spoken the transition to GNOME somewhat. And given Unity was built on top of the same GTK libraries, GNOME components, and GNOME apps, many of the apps and interfaces you'll see and need to find in Ubuntu 17.10 are possibly matching or very matching to their Unity counterparts.
In some cases, however, even the informed will feel a little strange. Files, the default GNOME file manager app, is a good instance of this. For Unity 7, Ubuntu used an older chronicle of Files and heavily patched it to supplement some functionality that had prolonged given been deleted by the GNOME developers. With 17.10, Files is up to date, and those facilities are gone. One thing that Ubuntu did conduct to penetrate in there is support for the desktop as a place to put stuff. The GNOME developers apparently consider the desktop just a wallpaper display tool, but with Ubuntu you can actually put launchers, folders, and files on your desktop. That should be acquire news for many Ubuntu users.
The top bar in GNOME behaves a little differently than the top bar in Unity. It has app indicators, standing messages, network controls, and user sessions like Unity, but the top bar also adds a opposite app menu, a calendar applet in the core of the screen. There's also something like a global menu, reduction the menu. When apps are maximized, the name of the app appears in the top menu along with one object menu (quit is generally your only option). A couple of apps have a few additional equipment in their menus—Terminal and Files for example—but it's a distant cry from Unity.
There's one other thing you'll notice in this release: the window government buttons are back on the right side of any pretension bar. Back when Unity first arrived, Ubuntu changed the buttons to the left (or wrong) side of the window in the name of innovation. Actually, there was a flattering good reason for the change. When you done a window full screen in Unity, the buttons became partial of the top bar, and you can't do that when buttons are on the right side. But with the one top bar now a thing of the past, there's no reason to have the buttons on the left side. If you really favourite them over there, you can change the environment in the GNOME Tweak tool.
Once you get past the differences with Unity, there's much to like about this release. GNOME Shell is opposite from Unity, but it's not indispensably worse. It's positively a flattering desktop, generally if you barter out the default thesis that ships with 17.10 for something a little sleeker (I occur to like the dim various of the Arc theme), something Ubuntu itself is formulation to do before 18.04 LTS arrives. The default GNOME apps are generally the same as what you had in 17.04, but as remarkable above, some are utterly a bit newer (Files and Terminal are the many important of those).
For those already good informed with GNOME, Ubuntu 17.10 ships with GNOME 3.26, which is important for its improved, streamlined hunt view, a new settings app (called Control Center rather than Settings), and full content hunt support for Files. There's also an engaging underline buried in the GNOME Web app: the GNOME browser no one uses. It now supports Firefox Sync, which means you can sync your bookmarks, history, passwords, and open tabs between Firefox and Web. So if you wish to see what Web is like, now you can at slightest do it and keep all you've got set up in Firefox.
In the end, what you get with GNOME in 17.10 is close adequate to Unity that it doesn't take some-more than a couple of days to hang your conduct around the differences and get on with your work.
It's worth observant that in my testing, GNOME uses rather some-more RAM and CPU than Unity on the same hardware doing the same things. The boost is only about 10 percent some-more on the RAM, and, let's face it, conjunction of them are lightweight desktops. If you wish something light, try i3.
Listing picture by Ubuntu
auto magazine