The basement of window government in Windows haven't really changed a whole lot given the days of Windows 3. You can maximize windows to make them take up a whole guard or you can have them free-floating and arbitrarily sized—that's about it. macOS gives maximized windows a slight turn with its full-screen view, and Windows 7 introduced Aero Snap, a way to get two windows side by side, any occupying accurately half the screen (later extended to order the screen into quadrants, for 4 windows at a time). While these are both constrained features, the basement still haven't really changed for decades.
But one kind of focus has prolonged stood out as an exception: the browser. Browsers supplement a second dimension to window government by their use of tabs. While browsers substantially weren't the first, and positively aren't the only, apps to have tabs, they're the ones that have finished so many successfully. With tabs, we can have mixed pages—multiple dissimilar activities—all within the same window. We can mix tabs with other window government to, for example, put a garland of associated tabs in a sold window, organisation them up and doing them as a unit.
In a underline announced today, Microsoft is going to bring that same kind of two-level organisation and government to every window and every application. Tabs won't just be for browsers; they'll be for Notepad, or Word, or Visual Studio, or Explorer, or Minecraft. The underline is now called "Sets," and it'll be coming shortly to the Windows Insider Program.
"Sets" will come with some critical wrinkles, but first a word on the name. Microsoft knows that the name "Sets" is not a good one; when you're articulate about the feature, it sounds a bit like you're observant "sex" all the time. So the name will change eventually. For now, however, "Sets" is what we have.
1
Rumors of having tabs everywhere emerged in April, and Sets does this, just in a way that's a little some-more structured than competence have been primarily assumed. Back at its Build developer eventuality in May, Microsoft showed off Windows Timeline. This gives a temporal perspective of your operative activities. If you had a garland of papers and browser windows open at a sold time on a sold day, Timeline lets you crop by them and open them together.
Sets builds on a identical concept. The instance Microsoft gives is of a tyro operative on a paper for class. The categorical focus she'll be using is Word to write her paper, but she'll also have other resources—a OneNote cover from her class, several webpages with useful information—that are all associated but secondary. With Sets, she'll hit the new add-on symbol in Word and open up OneNote with the category cover as a tab; hit new add-on again and perform a Web search. These tabs turn partial of the Word window. Close the Word window, and all the tabs close with it. Open the window again, and it'll ask if you wish to reconstruct all the tabs at the same time.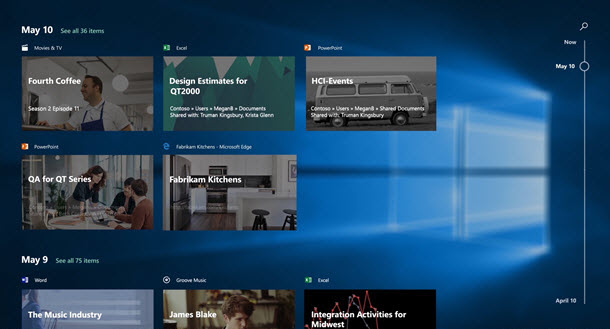 In this way, Sets adds a kind of task-oriented organisation in further to Timeline's time-based one. Sets can be tied to sold documents—open the request and the associated tabs will come with it—or sold applications. For example, a Minecraft window could also have tabs for several wikis and YouTube tutorials so all your Minecraft things is rubbed together.
The way Microsoft will be building and delivering Sets is a little opposite from what we've seen from the Windows Insider Program in the past. The next Insider build will have Timeline accessible to everyone. But Sets, at slightest initially, will be limited. Insiders will be incidentally opted in to the Sets test, and the new facilities won't be accessible to everybody at first.
This is mostly given Sets is a formidable change with range to mangle things. In the initial implementation, it will only work with applications built using the Universal Windows Platform (UWP), such as Edge, Mail, and other apps from the Microsoft Store. That's given these apps are the many constrained; Microsoft knows that they're not monkeying about with any Windows internals or depending on specific undocumented function of the Win32 API, so slapping some additional tabs in their pretension bars is comparatively straightforward. The early contrast will capacitate the company to consider the fortitude and trustworthiness of adding tabs to applications, permitting Microsoft to labour the interface for saving and restoring sets of tabs, the formation into Timeline, and so on.
But the company recognizes that longterm, tabs have to be accessible to some-more than just UWP applications. After UWP apps, the next priority will be enabling Sets for the next category of Windows applications: those that don't customize their coming (think Notepad) and Office. Office has a deeply tradition user interface, but given Microsoft is very informed with its code and given it drives so many capability scenarios, a future Insider Preview build of Office will also light up tabbed functionality.
Beyond this is the final category: customized Win32 applications. Visual Studio would be an instance here; its pretension bar is very non-standard due to a hunt box and tradition buttons, so reckoning out the best way to hoop such applications is still a work in progress. One option that the company is exploring is a "doubled up" pretension bar—a customary pretension bar, with tabs, that sits above the tradition pretension bar. There will also be APIs so that applications can practice larger control over the tabs.
Sets is an surprising underline given Microsoft is treating it as an exploration. The company isn't nonetheless certain precisely how people will use them or how people will want to use them. Already there are certain things that I'd like to do that aren't now rubbed by the system; for example, in Visual Studio we would like to have some tabs that go to the "app" (a add-on for Stack Overflow, another for C++ Reference), and others that are non-stop and sealed on a per-project basis.
The early inlet of Sets also means that Microsoft isn't committing to broach them any time soon. There's no pledge that they'll be in the next major update, codenamed Redstone 4, due in Mar or Apr next year. And their complexity means that it may take much longer before they're good adequate to put into fast Windows. It's even probable that Microsoft will find that Sets is just not that useful, and the underline never creates it into a shipping product, yet that seems doubtful at this point.
Listing picture by Jerry
auto magazine