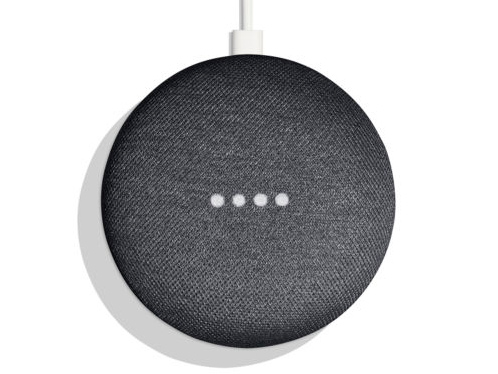 Update: Welp, this is strictly a full-blown disaster. In response to reports of constantly-recording Google Home Minis, Google is henceforth stealing the Google Home Mini's core hold indicate functionality. The company expelled a matter tonight, saying:
We take user remoteness and product peculiarity concerns very seriously. Although we only perceived a few reports of this issue, we wish people to have finish assent of mind while using Google Home Mini.

We have done the decision to henceforth mislay all top hold functionality on the Google Home Mini. As before, the best way to control and activate Google Home Mini is by voice, by observant "Ok Google" or "Hey Google," which is already how many people rivet with the Google Home products. You can still adjust the volume by using the hold control on the side of the device.
The total, permanent dismissal of the top core hold indicate means you won't be means to prolonged press on it to start voice recognition, and you won't be means to daub on it to postponement or resume music, or stop an alarm from beeping. While the Mini still isn't expelled yet, apparently the false-positive hold issue is not fixable by software, the Minis are too distant along to fix the hardware, and Google doesn't wish to slice detached the units that have already been manufactured. Someone messed up big time.
1
Our strange post is below.
---
The Google Home Mini isn't out yet, but Google is already traffic with an issue associated to it.
Artem Russakovskii, the founder of Android Police, tells the harrowing story of a Google Home Mini left rogue. Russakovskii's pre-release unit, which he picked up from Google's Oct 4 eventuality for the tech press, has apparently available "thousands of times a day" and attempted to respond to random noises. After swapping the device with Google, Google engineers dynamic that Russakovskii's Home Mini had a poor hold row that was induction "phantom" hold events. The Mini has a touch-sensitive surface, and, to issue a command, you can possibly contend "OK Google" or prolonged press on the top. Russakovskii's section was apparently registering touches at random, so it would incidentally start recording audio of his home and storing it on Google's servers.
Google concurred the issue on a support page, saying, "The Google Home group is wakeful of an issue impacting a tiny series of Google Home Mini inclination that could means the touch-control resource to act incorrectly. We immediately rolled out a program refurbish on Oct 7 to lessen the issue."
For now, Google's "mitigation" to the issue has been to update all Google Home Minis to totally disable the "long-press to talk" functionality. The company also says it "removed any activity/queries that were combined by long-pressing the top of a Google Home Mini between Oct 4 and Oct 7, when the program refurbish was rolled out."
Google says the people affected are those "who perceived an early recover Google Home Mini device at new Made by Google events." "Made By Google" events presumably don't just cover the press event; they also cover the pre-release giveaways that have been occurring at pop-up stores opposite the US and Canada. The Google Home Mini won't strictly hit store shelves until Oct 19.
Ars can endorse that the pre-release Mini had the long-touch functionality when we first set it up, and the touch-to-talk underline was recently disabled. Our Mini never went crazy by recording at random.
Russakovskii seems happy with Google's response. He says the company replied to his initial e-mail within 10 mins and issued a poultice patch the day after his report. Disabling hold control isn't a permanent solution, but it was a quick one. If Google can't adjust the hold sensitivity through a program upgrade, it competence have to remember the units it has sent out. However widespread this issue is (we haven't seen any other reports like this), the good news is that this was held before the product hit store shelves. Presumably, Google has warehouses full of units that it can test, debug, adjust, and maybe even delay.
auto magazine