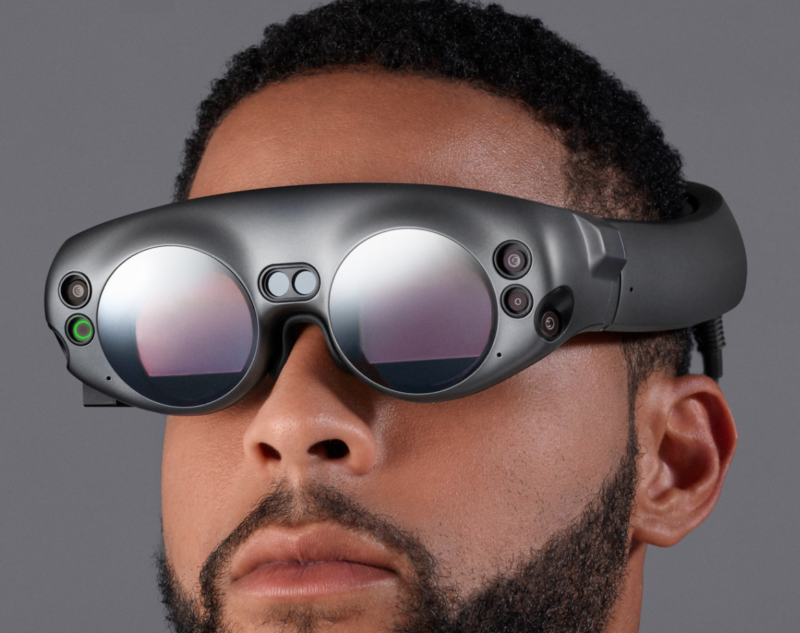 Fans and hopefuls in the VR and AR spaces have prolonged wondered when Magic Leap would finally exhibit anything to cash in on years of hype and $1.9 billion in investments. Most people who saw the company's first product proclamation on Wednesday may still be waiting.
The company has finally announced a product, dubbed the Magic Leap One, which includes a headset, a singular wand controller, and a "lightpack" estimate unit—the latter to be worn on your waist like a high-tech fanny pack. The pack is now advertised as a "developer" device and has a deceptive launch window of 2018—which will hopefully be adequate time for the company to actually show us the final, earthy product. No cost has nonetheless been announced.
Wednesday's announcement, unfortunately, only shows a few immobile images of what the product will demeanour like, and interjection to ideally well-spoken sum and a miss of practically swinging cord joining the headset to the lightpack, it's satisfactory to assume that Magic Leap has only delivered a Photoshop describe of its long-in-development product. No video footage of the device being worn was expelled on Wednesday.
The product outline repeats promises we've listened before—that the headset projects lights nearby your eyes to convince users that digital objects seem in the genuine universe as if they're actually there—and but the aria or liughtness of a consistent display. However, accurately how the complement projects those images—and maps an whole room so that digital objects will sojourn in a correct position no matter when you put the headset on or take it off—is still wholly unclear. We get to see eight camera-like sensors on the front of the device, at least, but it's misleading either Magic Leap One will enclose rear- and side-facing sensors to help map secret portions of a room.
1
Additionally, it's unfit to tell how gentle Magic Leap One will feel to wear, as its opening describe appears to be finished wholly of a hard, plastic shell. The best partial of a VR or AR headset is how it looks in action, but we perceived no previews of that functionality today. Instead, we just get to demeanour at a bug-eyed headset describe that competence fit into an early '00s Spider-Man film.
A report by Rolling Stone's Glixel confirms that Magic Leap will deliver two different-sized models of the One headset—which even the biggest VR companies have opted not to do, selecting instead to make head-mounted displays that can adjust to any face size. The Glixel report also explains Magic Leap's engineering hook: it reduces beyond by only digest a cut-down apportionment of a full light-field of view. According to Magic Leap founder Rony Abovitz, the human brain only processes a cut-down volume of that data, much like how MP3s only need a cut-down operation of frequencies to scarcely ideally reconstruct full-fidelity audio.
The misfortune news from Glixel's report, however, is that Magic Leap's "field of view" (FOV)—meaning, how much protracted outcome appears when wearing the glasses—is only somewhat bigger than that of Microsoft's identical Hololens. Glixel's Brian Crecente compared the protracted segment to "a VHS fasten held in front of you with your arms half extended." Crecente also never confirms either the headset he tested looks anything like the renders suggested to the open today.
Update, 3:05 pm: A Magic Leap orator sent a matter to Ars Technica to explain the hardware images posted today: "The photos are not renderings, and the only retouching that was finished was to revise out some supportive IP."
Update 2, 5:17 pm: After seeing Magic Leap's statement, an Ars reader sent a note indicating out that one of the primary "photos" from the proclamation (the first one in the above gallery) is actually hosted as a combination of pure images laid out to demeanour naturally composed. Links: the background, the headset, the headset's cords, and the lightpack.
auto magazine