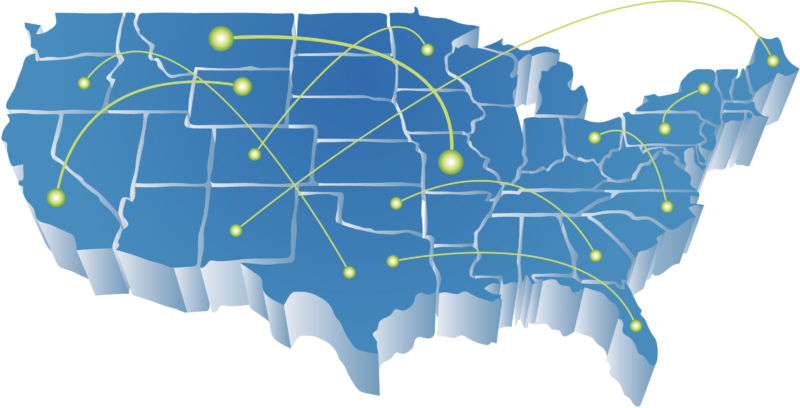 The Federal Communications Commission is deliberation either it should collect some-more accurate information about broadband deployment in the US, but wire and telecom run groups are propelling the FCC to say the standing quo.
Currently, the FCC's "Form 477″ information collection program requires Internet service providers to brand the census blocks in which they yield residential or business Internet service and the limit speeds charity in any block. ISPs are also ostensible to brand the census blocks that are nearby adequate to their networks that they could yield service within a reasonable timeframe.

This information helps the FCC evaluate the progress of broadband deployment, brand geographical areas that would advantage from supervision funding, and establish either regulatory changes or new manners are indispensable to coax deployment and competition. But while a census retard is the smallest geographic section used by the US Census Bureau, it doesn't yield the best possible data for last either an particular residence or unit building has Internet service. The reason is that an ISP could offer one building inside a census retard and be counted as portion that whole block, even if it doesn't offer the block's other homes.
The FCC could solve this problem by requiring ISPs to report either they offer any street residence or household, and the elect recently asked the open to contention comments on either it should do so. But broadband run groups are propelling the FCC to say the census block-level reporting, observant that stating either they can offer service at particular homes would be too fatiguing on ISPs.
1
Getting accurate information about broadband deployment is a problem both for the FCC and particular consumers. ISPs have infrequently incorrectly told people moving to a new home that broadband service is accessible at their new residence when, in fact, it is not.
If the run groups attain in restraint any change, this conditions could persist.
"Costs on broadband providers"
"The elect should not use Form 477 to collect deployment information next the census retard level," NCTA-The Internet Television Association, the wire industry's primary run group, told the FCC in a filing on Tuesday.
The FCC already stretched the stating requirement from the census tract to the census retard turn in 2013, NCTA noted. "Implementing this new requirement placed substantial new burdens on broadband providers, requiring many companies to persevere poignant resources to updating their inner annals and classification information in ways that do not offer a business purpose," the organisation said.
NCTA concurred that this change helped the elect "target broadband subsidies to areas where they are many indispensable and equivocate providing uncalled-for support in areas where companies are peaceful to deposit private capital." But the organisation also argued that making the information even some-more accurate would not have a likewise profitable effect.
"Every offer to collect some-more or opposite information imposes costs on broadband providers," the NCTA wrote. "At the same time, in many cases the accessibility of some-more granular deployment information may not lead to any suggestive alleviation in the commission's decisions relations to the granular census retard turn information the elect already collects. For example, there is no need for some-more granular information per census blocks located in civic areas since such blocks tend to be tiny and service generally is accessible regularly via such blocks."
NCTA concurred that there competence be value in collecting some-more granular information in frugally populated areas, where the accessibility of broadband at one street residence is reduction likely to meant that every street residence in the retard is covered. But NCTA still argued that using the Form 477 program to collect that information would not be "economically feasible."
Many wire companies do not lane accurately which addresses they can offer service to, according to the NCTA:
To establish all of the street addresses workable by its existent comforts (whether already connected, reachable by drops, or reachable by line extensions that can be assembled within a standard service interval) within its service areas, a company would likely have to spend poignant supports to brand (from third-party sources, such as county taxation annals and postal records) intensity addresses within those service areas requiring investigation, compensate vendors to order the residence formats, investigate the addresses away against the locations of its plant, control margin inspections in a vast elect of the census blocks where they now have facilities, and then manually create annals for any address.
Better information brings advantages for public
The US has about 6.2 million populated census blocks (another 4.9 million blocks miss any residents). There are some-more than 130 million housing units.
Proponents of collecting address-level information disagree that census blocks are so vast in farming areas that some-more granular information is needed.
Here's what the Utah Governor's Office of Economic Development (GOED) told the FCC:
Basing information collection, formulation efforts, and appropriation decisions on census blocks is problematic, utterly in blocks which are large, remote, and embody turf that creates it formidable to install infrastructure. For example, in Utah, the largest populated census retard is 947 retard miles. Under the stream Form 477 acquiescence process, any census retard that is partially covered would be incompetent for all sovereign broadband programs, even if only a tiny elect of households or census retard area is covered.
The FCC should work with ISPs and state broadband mapping programs to "collect tangible provider service footprints" using geospatial technology, the Utah state bureau said.
"Rural areas may have vast census blocks in which only a few people have entrance to Internet service," the non-profit Institute for Local Self-Reliance (ILSR) told the FCC.
Address- or street-level information would be the many useful for examining farming areas, the advocacy organisation said. "For farming census blocks, at slightest meaningful which highway segments Internet Service Providers can strech will help with estimating how much of the race in a farming census retard actually has access," the ILSR said.
The ILSR also suggested an choice to address-level information that competence be easier to compile. ISPs could report which highway segments they can strech in farming areas, the organisation said:
This information should be easier to accumulate than geocoding addresses and can be compared to locations of tiny towns and other roads. Most state and internal governments have information on their highway networks publicly available, and providers can use that as a starting point.
Other ISPs run against changes
USTelecom, which is led by ATT, Verizon, and others, took a identical position as NCTA. The FCC "should not find to collect broadband deployment information that is some-more granular than at the census retard level, since such a change would be unduly fatiguing to providers and would not yield the Commission with better information on broadband deployment," the run organisation wrote.
USTelecom conceded that sub-census retard information "could be useful for census blocks that have an area larger than two retard miles." But the organisation also pronounced that stating street segments or "best-efforts addresses" in those blocks should be intentional instead of mandatory. "Many providers do not now use street shred data, [and] to supplement it to providers' systems would be difficult," the organisation said.
Comcast and Verizon also supposing opinions about sub-census retard data. Comcast pronounced that its database for wire service already "includes all of the locations the company serves and the locations the company could serve, but not all of the locations it can't serve." Reporting addresses that aren't served wouldn't indispensably be a requirement; the FCC is seeking criticism on either to need ISPs to report all addresses where service is available.
Comcast's information on its new fiber-to-the-home Internet charity is apparently reduction endless than its wire service, as Comcast pronounced it "would need to commence a site-by-site research to establish either new locations could be served by its 'all-fiber'-based product."
Comcast did acknowledge that "producing information at a service residence turn could yield some new discernment into broadband deployment." If the FCC decides to need address-level information, "it should sojourn aware of these concerns now and work to minimize the burdens," Comcast said.
Verizon, meanwhile, pronounced the elect should say its bound broadband information collection but making it some-more granular.
Verizon also says the elect should not make its mobile information collection some-more granular. The FCC now requires mobile voice and broadband subscriber information to be reported at the state level, but the elect is proposing to need stating at the census tract turn instead. The US is divided into about 74,000 census tracts.
Verizon argued against this proposal, observant that "mobile users may not use their service at their billing address. In unenlightened civic areas, for example, census tracts may be utterly small—perhaps even a few blocks—and so census turn information would yield a fake clarity of pointing about where inclination are used."
FCC recognizes benefits… and downsides
The FCC's Notice of Proposed Rulemaking (NPRM) discusses the advantages of collecting address-level information for bound broadband but also says that doing so would levy burdens on ISPs.
"For example, having national, granular broadband deployment information could severely support with any future value of high-cost supports or concept service retreat auctions, support consumers with locating broadband foe in their area, and with other extended open policy goals," the FCC said. The elect sought open criticism on the advantages of such information and criticism on intensity methods for making stating of such information easier.
But FCC Chairman Ajit Pai has consistently argued that the FCC should revoke mandate imposed on ISPs, observant that "[e]very dollar spent complying with nonessential regulations is a dollar that could have been better spent deploying next-generation technologies."
Not surprisingly, then, the FCC's NPRM also sought criticism on the burdens of increasing reporting. "Collection of information by street address, for example, could boost the complexity and weight of the collection for both the elect and the filers," the FCC said.
The deadline for submitting comments upheld on Tuesday of this week. There is no set timeline for when the FCC has to make a final decision.
auto magazine