How much can you cut divided from a Google Home and have it still be good? That was the doubt asked of Google's hardware organisation when it combined the Google Home Mini, a device that slashes the $129 Google Home down to a tiny $50. The outcome is a smaller, cheaper, easier device that still has all the Google Assistant smarts of its bigger hermit but a orator complement able of pumping out decent-sounding music. If you've ever wondered if this voice authority things would work in your residence and need a test device, Google is anticipating you'll take a play on this inexpensive little device.
Most of the facilities we covered in the original Google Home review still apply. The Home Mini still has an implausible filigree hotword system, seamlessly formulating a Star Trek-like voice authority network with other Google Homes and Android devices. A scream of "OK Google" and the Google Home hivemind will instantly brand the closest device to you and singularly answer you on that device. You still conduct it by the Google Home app. It still has a garland of voice commands. In this review, we're especially looking at the hardware, so let's dive in!
The hardware
The pattern of the Google Home Mini is kind of cute. It's a tiny circle that's 3.86-inches (98mm) in hole and 1.65-inches (42mm) tall. The top is covered in a woven cloth material, while the bottom half is plastic with a big rubber foot. It looks like someone stuck a donut inside a sock. Since the Google Home Mini looks like a piece of washing or a cot cushion, it blends in to a home sourroundings much easier than the white plastic crypt that is the strange Google Home.
1
Under the batch fabric is a set of 4 lights, which work just like the ones on the big Google Home. This is a step down from the Google Home's 11 lights, but hey, we're trying to cut costs here. The lights will spin on when the Google Home is talking or listening to you, and they also indicate the volume spin (1 to 4) when you adjust the volume. The lights are RGB LEDs, but mostly they're calm to stay their default paint of white.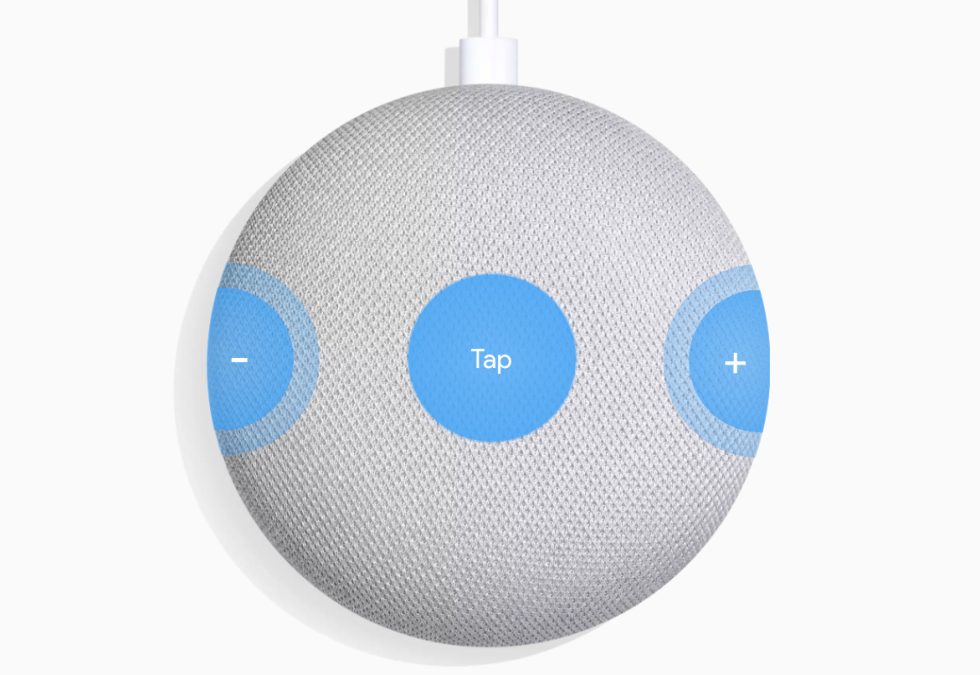 The top surface is hold sensitive. Tapping on the left and right (the "front" is conflicting the energy cord) changes the volume. Tapping the core will postponement or play the now loaded music, and long-pressing the core will start the listening mode as an choice to observant "OK Google." Currently, this is infirm given at slightest one Google Home Mini shipped with a poor hold surface, which caused it to incidentally record a lot some-more than it should.
On the back of the device you'll find the energy cord, along with a earthy "mute microphone" switch that you can pierce left and right. Sliding the tongue-tied switch to the right will spin off the mini's microphone, exposing a splendid orange covering under the switch and branch the 4 lights orange. A earthy switch is an peculiar choice, given you can also tongue-tied Google Home by voice. This means you can cause the switch to be out of sync with the tangible tongue-tied state.
Google's hardware multiplication is all over the place when it comes to the energy plugs for its devices. The Google Wi-Fi, expelled last year, was a acquire warn with a USB-C pier just for power. Given Google's pioneering work with USB-C in products like the Chromebook Pixel 2 and Nexus/Pixel Phone line, Google seemed like it was going to pull this reversible plug customary to everything. The strange Google Home was an outlier, with a coaxial DC power jack, but given it was grown around the same time as the Google WiFi, you could assume that maybe the USB-C series just didn't make it in time. A year later, the new Google Home Mini is at a weird median point, using an old-school micro USB pier for power. What the block is doesn't really matter, given that you substantially won't ever mislay the Mini's energy cord and need to reinstate it. But it's an instance of Google Hardware lacking uniformity.
On the bottom of the Mini, you'll find a bright orange rubber foot with a "G" trademark hammered into it. The foot serves to resolutely anchor the Mini to whatever you hang it on, but it also has a dark little symbol on the bottom. If you hold it down, you'll factory-reset the Mini.
Google Home, now but its best feature
The other big thing to go on the Mini is the sound. When Google introduced Google Home last year, the company really seemed to take a "minimum viable product" proceed to launching the device. Google Home generally felt unprepared and couldn't do many of the things that we had come to pattern from Google's voice authority system, but the one thing it could do good was music. Multiple Google Homes could be placed around your residence and connected together, and they would accomplish the surprisingly formidable charge of personification seamless music via your house.
It seemed like "good music playback" was the smallest viable product for Google Home at launch, and now, a year later, Google is rising a Google Home device that isn't meant for music playback. The Mini can play back music—it just really shouldn't. The Google Home Mini only has a singular 40mm driver, and while it gets sincerely loud, the drum is non-existent, the highs are clipped, and it's just altogether an upsetting orator for music.
Google also describes the Mini as a "360-degree speaker," but what Google actually means is that the orator points true up. The indicate is, the Mini isn't any good at personification music. It seems tuned for voice and voice only, which is glorious for hearing command affirmations and the weather report.
What do you do with a Google Home that shouldn't play music, though? Should you supplement the Mini to the Google Home orator organisation and have a low-quality orator grating divided when you're personification music? After a few test runs, we chose to mislay it from the music orator group, given it just sounds bad. As someone who's a fan of the whole-home music idea, this creates anticipating a place for the Google Home Mini in my residence difficult. we ask myself the question, "Where do we wish voice commands, but not music?" and we can't come up with a mark that fits that description. I feel like the Home Mini is good if you're experimenting or on a budget, but if you caring about music, there's little reason to get a mini if you can means a full-sized Google Home.
If you wish to buy a $35 Chromecast Audio along with your $50 Google Home Mini, you can use the Mini as a "smart bridge" for a genuine orator system. This seems like the use case in which the Mini shines brightest. You get to keep the music playback while not using the Mini's crappy speaker. The Amazon Echo Dot has the same idea, but given it uses a good, out-of-date 3.5mm jack, you can offshoot up a orator but the need for an costly dongle and yet another energy plug. It's a shame the Mini can't do the same.
So what's left other than music?
Any time we speak to someone deliberation a Google Home, we ask them "What do you consider you'll use it for?" If you can't immediately come up with a specific answer to that question, you're substantially not going to find a ton of use once you set it up. Right now, we would rank Google Home's best use cases thusly:
Music—Great sound. An awesome, easy way to get ideally synced music in every room, which is a calamity with unchanging audio equipment. This is not really an option for the Home Mini.
Smart Home control—Great for branch lights on and off, determining dimmers, and adjusting HVAC. You'll need lots of costly smart home apparatus to make this work. The coming "routine" facilities will make this even better.
Reminders—You can now finally tell Google Home to remind you of something, and it will do it.
Phone Calls—It works as a orator phone now. You can dial contacts or businesses.
Finding your stuff—Google Home can now ring your smartphone when you need it. The Bluetooth guide company Tile also has Google Assistant integration, so you can find things besides your phone (like your automobile keys), too.
Asking questions—The answers to pointless trivia, section conversions, and the weather report are just a doubt away.
That's about it for now. Does that sound like adequate functionality to bring nonetheless another device into your home? Is it adequate to make you wish to put a Mini in every room, the way the tiny cost indicate and filigree hotword capabilities suggest? The Google Home always felt like a cool orator complement with some additional smarts thrown in. With the categorical orator functionality left in the Mini, you're left with the "extra smarts," and I'm not certain those facilities are adequate to feel like a entirely shaped product.
The good news is that the Google Home is a whole lot better this year than it was last year. Google doesn't always support its products after launch, but with Google Home, the company seems committed to building a critical voice authority ecosystem. While it still feels like an early adopter project, Home has been usually improving all year.
In a after article, we devise on digging by all the additions done to Google Home over the year for a full re-review. But, for now, we can offer a discerning rundown. This year Google Home combined the ability to heed users by voice using its "Voice Match" technology. It combined calendar-event creation, reminders, and reminder-notification support. You can make phone calls and even travesty tourist ID with a Project Fi number. Home can review out cooking recipes. It can ring your phone. There's also a flourishing universe of third-party apps that can start your robotic opening cleaner, write up an IFTTT recipe, or call an Uber.
There are still a million-and-one corner cases where the Google Home frustrates. Google ruined the selling list functionality by killing the glorious Google Keep formation and branch the selling list into a big Google Express ad, and it is still awful. Podcast support is still a janky tradition Google Home solution and not formed on Google Music's podcast subscriptions. Music and the hotword filigree opposite devices, but things like alarms and timers don't, so an alarm triggered on one Google Home can't be silenced on a opposite Google Home. The app has a underline called "Shortcuts," which is ostensible to let you allot a tradition word to an action, but it flat-out doesn't work.
Last month, Google sent an refurbish to all Google Home users that compulsory them to blow up their smart home settings and relink their inclination to the Google Assistant. Google Home still feels like an early adopter product that isn't finished.
At the launch of the Home Mini, Google announced a few facilities coming to Google Home in the future, too. "Routines" will concede you to program big macros into Google Home, so a singular authority like "Good night" could close up the house, spin off the lights, reduce the thermostat, review you tomorrow's agenda, and (seriously) review you a bedtime story. "Broadcasts" will concede you to send a summary to all the Google Homes in a household, arrange of like an intercom system. Google is also operative on a bigger hardware ecosystem, with its own $400 Google Home Max on the way and a slew of third-party inclination coming next year.
A gateway drug to Google voice commands

The Google Home Mini essentially serves as an easy entrance indicate for a Google voice authority system. It's $50, and you can just block it in, and it will work. You don't have to buy a new $800 smartphone or a heavier $129 box. Google seems happy to give them divided like candy, charity free Minis to anyone that buys a Pixel 2 or a $25 credit if you buy a Mini from Walmart using Google Express. we think Google will try to trowel these things at users as much as probable as a gateway drug into the Google Assistant ecosystem.
I have a tough time desiring the Mini will ever stop feeling like a starter product, though. The device, which grew out of the Chromecast team, has such low roots in media that it feels like profanity to have one but a decent speaker. we feel like the Mini is a good "test" device for those looking to drop their toes in the universe of Google voice authority products, but if you confirm you like it, eventually the Mini will be relegated to a dry closet and transposed with a bigger Google Home. Unless, of course, you also devise to buy a Chromecast Audio and will use an existent orator system. Then a Mini or two for your existent setups seems like a good option.
A inexpensive gateway product into Google's voice ecosystem is critical to have, and the Mini serves that purpose perfectly. I'm not certain we would ever fill a residence with Minis, though. It's called a "Mini" for a reason—this is the tiny one you're not meant to use for the full Google Home experience.
The Good
It's cheap! For $50, newbies can simply examination with Google's voice authority system.
The mostly cloth pattern merges simply into a home decor.
It's small. You can put it anywhere, and it won't be in the way.
Tethering to a Chromecast Audio is nice for those with bigger speakers, but a connected option would be nice, too.
Plenty of upgrades to the program were done in the past year.
The Bad
Google Home still feels like an early adopter product.
Music was the Google Home's best feature, and this doesn't really work with music.
The Ugly
The sound the orator pumps out.
auto magazine