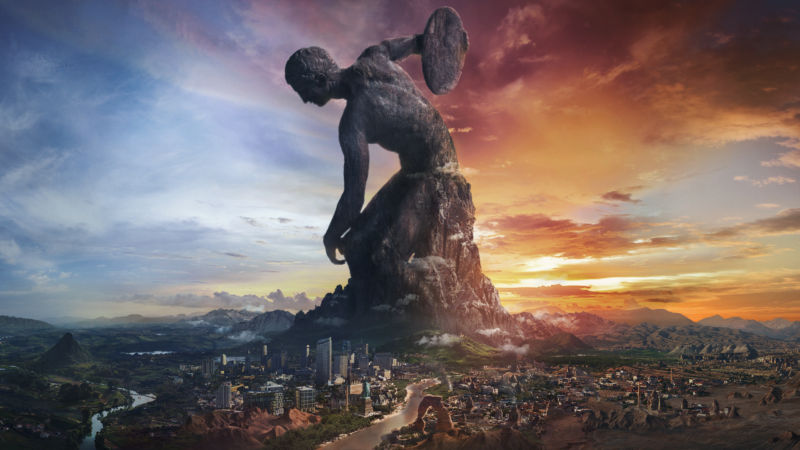 A new enlargement for Civilization VI, called Civilization VI: Rise and Fall, was announced today. The enlargement looks to majorly shake up the upsurge of the diversion with era-long modifiers that will force you to change your strategy for fear of losing your cities or aspiration to seize others'. Its centerpiece underline is the further of "Golden Ages," "Dark Ages," and "Heroic Ages"—macro events that request any civilization's ever-shifting fortunes, achievements, and movement to a onslaught for domain and informative influence, either military force is concerned or not.
The enlargement will also supplement governors, a severely stretched alliances system, cities that peacefully flip between civilizations, and an "Historic Moments" complement that gives players special milestones that impact outcomes. Players can demeanour brazen to "emergency situations," which concede the civilizations at the bottom to pool their resources in sequence to benefit advantages that help rouse them all closer to the top players. And, of course, design new civilizations and leaders.
The Historic Moments, city flipping, and ages all play into one another. You competence remember Golden Ages from past Civilization titles; typically, they were short-term boosts to your civilization's complacency or outlay that lasted for a few terms. This time, they last for an whole epoch (Ancient, Medieval, and so on), and they impact a apparatus called loyalty. With loyalty, you can flip other civilizations' cities but banishment a shot—just like culture-flipping in, say, Civilization IV—or have yours flipped divided from you.
In Golden Ages, your faithfulness is increasing and your informative change on other civs is powerful. In Dark Ages, they're decreased, and you're vulnerable. But even in a Dark Age, there's hope; you can use special Dark Age policies to eventually find your way to a Heroic Age, which is even better than a Golden Age.
1
Historic Moments are already in the game, in a way—they embody events like circumnavigating the globe. But now there are some-more of them, and they're not just fun milestones. As you amass Historic Moments, you benefit swell toward a future Golden Age. They're also combined to your Timeline, a new perspective that lets you see your swell up to the stream day. Video diversion company Firaxis says this Timeline perspective is, among other things, dictated to help you find your orientation when you're returning to a diversion you had left behind for a while.
Firaxis has expelled a few screenshots that may spirit at some smaller additions to the game. Of course, Civilization is not generally visible as video games go, but see if you can mark new things below.
Other features
Diplomacy in Civilization VI has always felt a bit anemic, but at slightest one aspect of the art of general family gets a boost—alliances. Now, as in some past games, there are several forms of alliances, like Research, Cultural, Economic, Military, and Religious. As your ties with your fan connect closer, you both accept additional bonuses over time, making the awaiting of disjunction the fondness increasingly difficult. That means there will be some-more consequences for profanation than just fight weariness.
At first glance, governors are identical to the leaders from Master of Orion II and other games. Each administrator has singular bonuses, and you can allot them to conduct a specific city. But you can also upgrade them in ability trees that are singular to any governor. You'll have to make choices about either to deposit all your upgrades in one governor—say, the administrator of your large collateral city—or distributing improvements among mixed governors stationed opposite your civilization (you can go up to seven).
Finally, Firaxis says it's adding new civilizations and leaders. It hasn't named any specific ones, but they will be suggested in the coming weeks. The studio says in its announcement blog post that it is generally meddlesome in adding some-more womanlike leaders to the game. "Women are mostly underrepresented in normal chronological accounts, and new grant has suggested some-more and some-more the fascinating and absolute women that lived between the lines of story textbooks," the post says.
This looks to be Civilization VI's Civilization V: Brave New World equivalent—a strong enlargement that adds major new systems that will change the way the diversion is played, not just supplement a few new civilizations or tweaks to existent ideas. It continues Civilization VI's proceed of holding classical series ideas (like Golden Ages or culture-flipping) and remixing them in very opposite configurations for players who've been doing the same old thing for 27 years. Of course, there's something comforting about the same old impetus to feat you've been personification for decades. Striking that change can be a challenge.
We'll find out how good that change is when Civilization VI: Rise and Fall is expelled on Feb 8. Here's the cinematic trailer, which unfortunately doesn't get into any gameplay specifics.
auto magazine